Learn to Ride a Motorcycle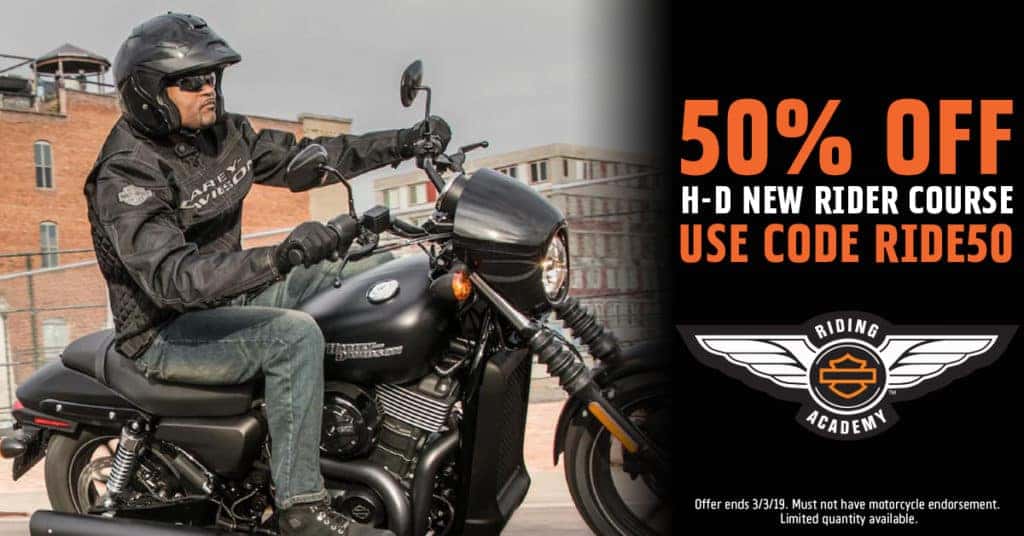 50% OFF H-D Riding Academy New Rider Course
Starting Friday, February 15, save 50% OFF any Riding Academy New Rider Course between now and December 2019!
To take advantage of this offer, enroll online with code RIDE50
Offer excludes students with a prior "M" Endorsement.
ACT FAST! LIMITED NUMBER OF CODE USES AVAILABLE! PROMO EXPIRES 3/3/19 OR UNTIL ALL CODES USED!
---
Stop Dreaming, Start Riding
Now has never been a better time to learn how to ride a motorcycle. The Harley-Davidson Riding Academy New Rider Course gives you all you need to get your license on the road in no time. The Riding Academy at Rockstar Harley-Davidson is open to everyone, whether you currently ride a Harley-Davidson® motorcycle or not.
Basic Rider & Skilled Rider Courses
JumpStart
FAQ
---
Riding Academy New Rider Course
When you take a New Rider Course at the Riding Academy you'll:
Learn to ride on a genuine Harley-Davidson® motorcycle.
Expert guidance from H-D certified coaches.
In the classroom, you'll get to know the motorcycle you'll be riding and learn the basics of rider safety skills.
On the practice range, you'll learn braking and turning, along with maneuvers like controlling skids and surmounting obstacles.
When you're finished you'll get a completion card.
Riding Academy Skilled Rider Course
Designed solely for experienced riders, this course is taught by dedicated, Certified Coaches.
You'll learn advanced tips and techniques to help you own the road. Control at low speeds, Risk management, Limited-space maneuvers, Cornering judgment, Swerving and stopping quickly on straights and in curves, Multiple curve maneuvers and surmounting objects. When you're done, you'll ride with more confidence than ever!

SEARCH COURSE SCHEDULE
---
JumpStart
Start with Jumpstart, a motorcycle mounted to a stable platform; it cannot move. You will be given helpful pointers and then you will be guided through safely mounting the motorcycle and operation of the primary controls.
You will be guided through starting the engine, operating the controls (including the throttle!), and then you will have a chance to run through the gears. Shifting will be explained and you will have the opportunity to learn in a low risk, low pressure, environment. Jumpstart is free to use and you can give it a try just about any time.

BOOK A FREE JUMPSTART SESSION
---
FAQ
WHAT WILL I NEED TO REGISTER?
You'll need a valid automobile driver's license or learner's permit, and have the ability to ride a bicycle.
DO I NEED ANY SPECIAL GEAR?
You'll need to bring the following:
Eyewear
Full-fingered gloves
Jeans, chaps, or leather pants with no holes
Over-the-ankle, sturdy footwear
A heavy, long-sleeve shirt or jacket
D.O.T. approved motorcycle helmet
WHAT BIKE WILL I RIDE?
For the riding portion you will ride a Harley-Davidson Street 500 Motorcycle.
---
---
OFFER VALID FOR 50% OFF THE PUBLISHED PRICE OF A H-D™ RIDING ACADEMY NEW RIDER COURSE (INCLUDING 3 WHEEL NEW RIDER COURSE). REGISTRATIONS MUST BE SUBMITTED BETWEEN 2/15/19 AND 3/3/19 FOR COURSES TAKEN BETWEEN 2/15/19 AND 12/31/19. ELIGIBLE PARTICIPANTS INCLUDE ANYONE WHO DOES NOT CURRENTLY HAVE AN M ENDORSEMENT OR MOTORCYCLE LICENSE, 18+, RESIDENTS OF CONTINENTAL UNITED STATES INCLUDING ALASKA AND D.C. DEALER PARTICIPATION MAY VARY, CLASS AVAILABILITY SUBJECT TO LIMITATION & AVAILABLE ON FIRST-COME FIRST-SERVE BASIS. OFFER AVAILABILITY LIMITED TO FIRST 10,000 PARTICIPANTS. PARTICIPANTS WHO REGISTER FOR, BUT DO NOT ATTEND THE COURSE, MAY BE CHARGED THE NORMAL COURSE FEE. SEE WWW.H-D.COM/LEARNTORIDE FOR ADDITIONAL TERMS AND CONDITIONS. VOID WHERE PROHIBITED OR RESTRICTED BY LAW. SUBJECT TO CHANGE WITHOUT NOTICE. SPONSOR: HARLEY-DAVIDSON MOTOR COMPANY, INC., 3700 W JUNEAU AVE, MILWAUKEE, WI 53208.