Motorcycle Rentals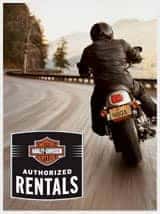 Escape for a day, a weekend or even a week on a Harley-Davidson®
One of the extras here at Rockstar Harley-Davidson is our rental program. That's right you can rent a Harley-Davidson® from us! With your rental you get 24-hour roadside assistance, Harley-Davidson® Security System, helmets for both rider and passenger and unlimited mileage. Our entire fleet are 2016 motorcycles!
Need a reason to rent a Harley-Davidson® motorcycle?
It's the Ultimate Test Ride. Really get to know another bike (or two) before you buy.
Make your vacation one to remember with a cruise down to Key West or over to Daytona Beach.
Your bike is being serviced and you can't wait to ride.
Got some downtime while you're visiting on business? Blow away the boredom.
Break free and turn any weekend into an adventure.
Daily Rental Rates
Daily rate (24 hours)
Rates DO NOT include tax or supplemental insurance or waivers
Requirements
Rider must be 21 or older
Rider must be able to provide $2,000 damage deposit (major credit cards or cash only)
Valid Motorcycle Endorsement
Multiple Day Discounted Rental Rates
3-4 day rental: 10% off daily rate
5-6 day rental: 15% off daily rate
7+ day rental: 25% off daily rate
*Discounts do not apply to Sportsters as well as taxes, insurance and loss damage waiver.
Insurance
As an option, you can add supplementary insurance coverage and a loss/damage waiver to the rental agreement.
Contact
If you have any questions about our rentals please contact us at:

Phone: (239) 275-4647
Here's what you get with your rental:
24-hour roadside assistance

Harley-Davidson
®
Security System

Helmets for both rider and passenger

Unlimited Mileage